Eye Emporium - Acton
Eye Emporium Opticians Acton
Welcome to Eye Emporium Opticians Acton, your local eye specialist in Acton, London. We are an independent, family-run optician since 1996, specialised in clinical excellence and exemplary customer care.
We provide a range of
eye-care services
, including eye tests for adults and children, comprehensive eye examinations with
OCT 3D scans
, contact lens fittings, and great aftercare. In our practice, patients will find a wide range of
designer glasses and sunglasses
, complemented with the latest technology in bespoke prescription lenses.
At Eye Emporium Opticians Acton, our team of expert optometrists and opticians will take care of all your eye-care needs.
Book an Appointment
Location:
Eye Emporium Opticians Acton is near Acton central, Acton Town, South Acton underground stations.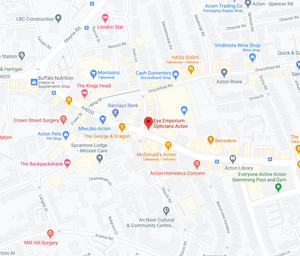 Get in Touch
Tel: 020 8752 0410

Email: acton@eye-emporium.com

Address:
168 High Street,
London,
W3 6QZ
Opening Hours
Monday: 09:30 - 18:00
Tuesday: 09:30 - 18:00
Wednesday: 09:30 - 18:30
Thursday: 09:30 - 18:30
Friday: 09:30 - 18:30
Saturday: 09:30 - 18:30
Sunday: Closed
Eye Emporium Acton is registered as: Spectacle Warehouse ltd. T/A Eye emporium, 0785960, 168 High Street, London, W3 6QZ